Salary conversations are always tricky. A lot of people equate it to base salary. In reality it is more than that. In this blog we will definitely talk about the dollar amount. But we will also look at all the factors that influence your total compensation.
Compensation Package
Comparing what one company is willing to pay you versus another only in dollar terms is futile. What you need to look at is the complete package. It consists of:
Base Salary
This is the amount you get before taxes each month.
Bonus
You will get a percentage bonus on your base salary at the end of the year depending on how well you and the company perform in the financial year.
Taxes
It's the amount you need to pay to the state and federal government for benefits they provide to you. It varies a lot from one location to another and can have a large material impact on your salary.
Equity/ESOP
You get a stake/ownership in the company whose value increases as the company grows. In most cases you can cash in after a few years on maturity or when the company goes public. It is a great way to retain talent. Every year the company will increase your esops and make it more difficult for you to leave 😊 . As you grow in your career they begin to carry much more weight in your package than the base salary.
Benefits
Look at the life, health and dental insurance cover that the company provides for you and your family. Find out what the company contribution is for these policies.
HR Policies
Depending on your lifestyle you might prefer a certain type of work environment. Some people like flexibility, others prefer structure and predictability. Some companies have personal development fund for employees. They can use it to get certifications, join workshops etc. to work on their personal development.
Growth Opportunity
Each organisation has functions that lead the growth initiatives of the company. For example:
•
Microsoft and Salesforce are sales driven organisations
•
Airbnb is design driven organisation
•
Google is engineering driven organisation
•
Amazon is product driven organisation
This doesn't mean that other functions don't play any role. But chances are that you'll get exposure to a lot of great initiatives when you are in a product driven organisation. You'll be able to figure that out during the interview process and by talking to people who work for the company now or have in the past.
What does the product organisation look like? Were you excited to talk to your peers and manager? Do you think you can learn from them and grow into a stronger product manager. Its important to look at all these questions when comparing prospective job offers
Factors that Influence Salary
Similar companies might offer candidates very different compensation. Two candidates applying for the same role might also be offered different salaries. Why is that so?
Six factors influence the compensation
Relevant Work Experience
You might have worked for five years in customer success before  deciding to switch careers. You can highlight your transferable skills but in the beginning you will have to take a salary cut. The compensation offered to you in this case will be far less than what a product manager with three years experience would get.
Location
It is one factor which drives others like demand, supply,taxes and relocation. With the world moving to remote work its weightage in some companies might be less than others. But it still remains an important factor. For example- The cost of living in San Francisco is much higher than Detroit. So it is important to compare the relative pay of each location. Payscale is a great resource to do an in depth analysis of the prevailing salaries in different regions. Look at the graphs below taken from it to get an idea.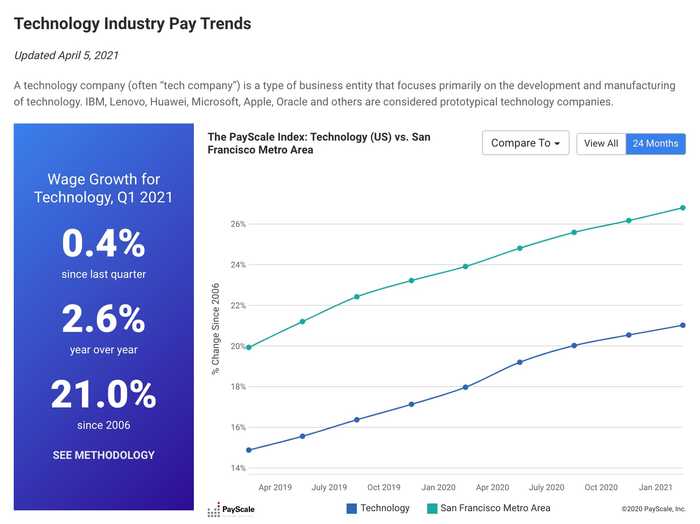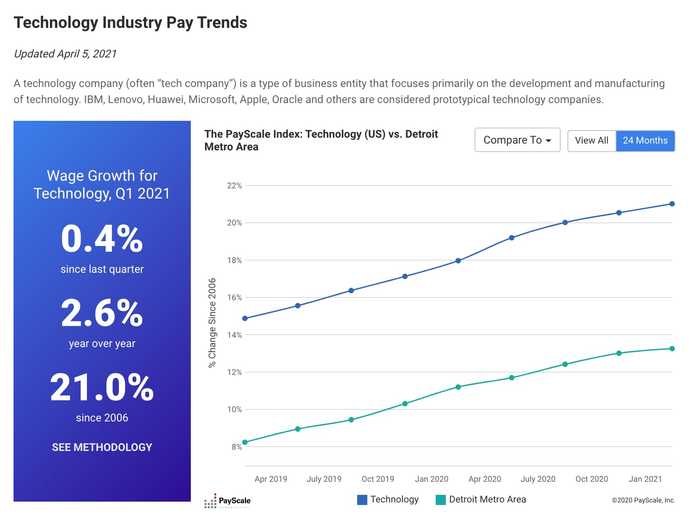 Demand
Different industries go through explosive growth during different periods of time. The demand for certain skills dramatically increase as a result. If you happen to be someone whose skills are in high demand then you command a higher salary than others in the same region.
Supply
Skilled labour supply is often dependent on how new a certain industry or field is. For example, right now the supply of data scientists is not able to meet the demand.
Company
Some companies in the same sector pay better than others. They believe in sharing more of their profits with their employees. It acts as a great long term strategy to avoid employee attrition.
Relocation
Local candidates are often preferred versus outstation candidates. This isn't a rule but something I've seen in general. Might not be true for all candidates. The advantage of hiring local talent is that they can join the company sooner and don't require relocation assistance. As a result companies are willing to pay more to attract them.
Unfortunately, Gender has been widely used in calculating salaries. Yes this is real. Time and again we have seen that men doing the same job get more money than their women counterparts. This is gender discrimination that has been prevalent in our society forever. It is disgusting. It is wrong. If you find out that a company is doing it then raise your voice, take it up with their HR team. If they don't do anything about it then report them to the authorities. There is no point joining such companies. There is hope though! More companies are coming with policies to prevent this from happening in their organisations.
Product Management Growth Trajectory
When you think about salaries you should balance your short term needs with long term goals. Would you take less pay in a company now that has a higher probability of growth in the future. It's a decision which depends on your personal situation. Like we discussed earlier in the blog there are different types of companies. You will grow faster and acquire skills that command a higher salary in a product driven organisation. To give you a basic idea let's look at the product organisation structure and the career path of a product manager.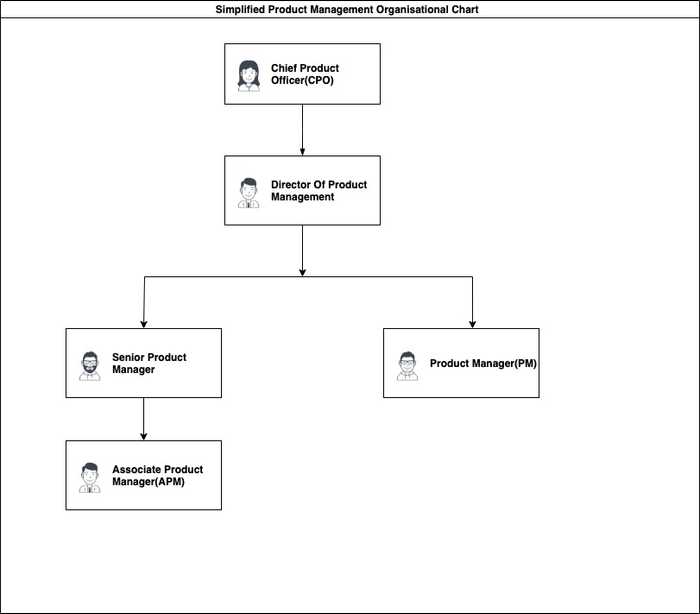 Associate Product Manager(APM)
It is an entry level role for which prior product management experience is not needed. A bachelor's degree with a desire to learn is all that you need. You learn the basics in this role. First by shadowing product managers before independently  taking on bug fixes and smaller features.
You can make anywhere in the range of $60K-$80K as an associate product manager.
Product Manager
Product Managers generally have 2-5 years of relevant work experience. You can start off as an associate product manager before  growing to take on the product manager role. People from customer facing teams and engineering can also transition into product manager roles. A product manager handles a product or set of features and manages independent releases.
Product Managers earn salaries between $80K-$150K per year.
Senior Product Manager
Experienced Product Managers start taking on leadership roles. In most organisations the product team is small. So leadership might not mean that they have direct reportees. In this role they lead larger cross-functional projects and manage associate product managers.
Senior Product Managers earn salaries in the range of $130K-$175K per year.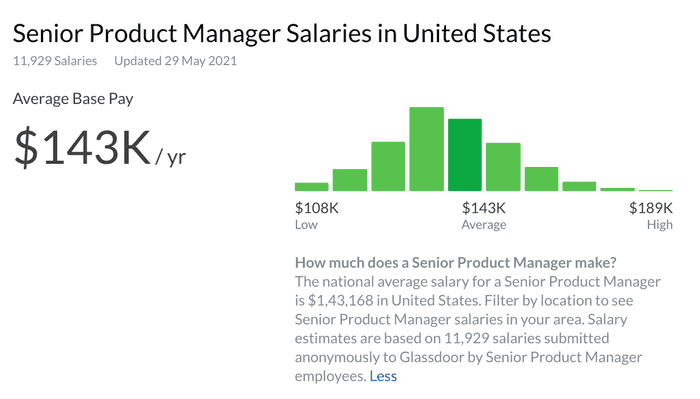 Director Product Manager
They manage the product team and all product managers report to them. This is the stage when product managers also become people managers. It requires them to learn new skills to be able to run a product team .
The range of salaries for Director Product Management is $150K-$225K per year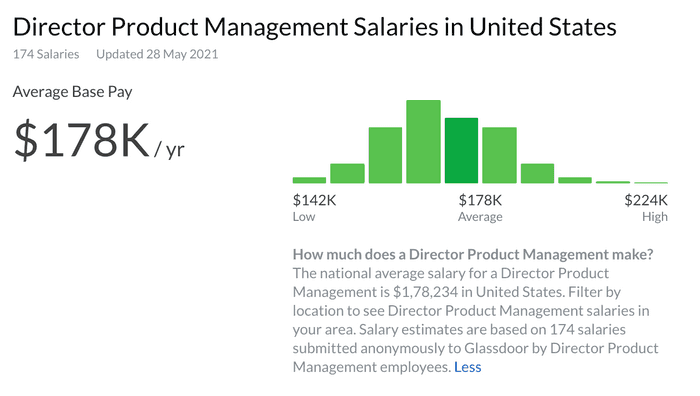 Chief Product Officer/VP  Product Management
CPO's lead the product vision for the company. Often the product and design teams report to them. It is harder to put a range on executive compensation.
Glassdoor is the source for the salary data in the above charts. You can look at data that matches with your location using the salary search feature on Glassdoor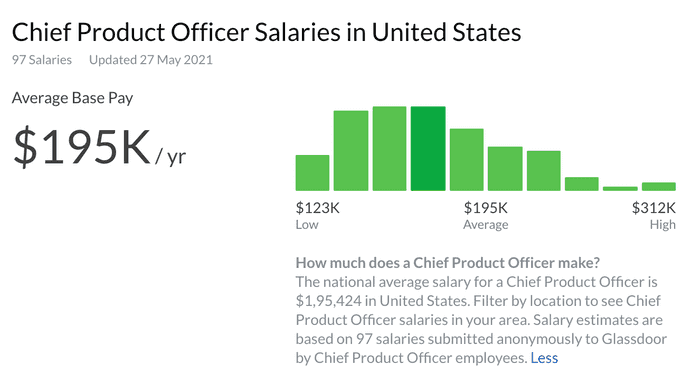 Conclusion
You should always negotiate your salary. But do keep in mind all the factors we have discussed. I want to reiterate what I wrote earlier. Always remember to balance your short term(monetary) needs with long term career goals. Sometimes you might have to compromise on one to get closer to the other.